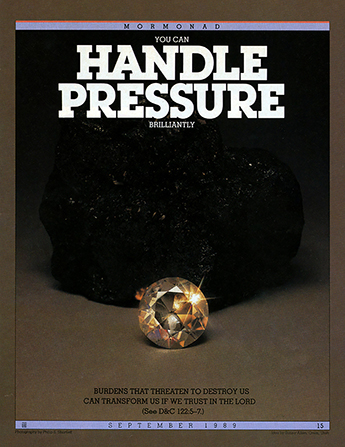 (Copyright Intellectual Reserve)
There is a myth out there that if you crush coal it will turn into a diamond. Scientists are still debating whether it is true or not, but there are a couple things they do know. Coal and diamonds are both made of the element carbon. When carbon is put under a lot of pressure and heat, it is incredibly transformed into the beautiful, valuable jewel we have now. However, you can see that if the conditions are not quite right, you will only be able to have coal.
In our lives, Heavenly Father gives us trials to test us. Just like the carbon, as we react with a good attitude to this pressure, we will become something beautiful. God knows what type of trials we need in order to make us humble, teachable, righteous, patient, and strong. Then, through the refiner's fire, we will be polished and molded to become the best we can be, to reach the potential of what He knows we can become. There are so many things you can do beyond your imagination, and as God gives us trials and heat, we can get closer to our full potential.
Many have said that through adversity, we grow spiritually ten times faster. We learn and grow better, and as we turn to our Father in Heaven through our trials, he will make us stronger. Have faith and hope that God will get you through. And remember, the only difference between a piece of coal and a dazzling diamond is how they responded to pressure. ;)
You have the potential to become the beautiful diamond that God knows you can be. Trust him, and he will lead you on.